Elder Medicine Man and Co-Founder, Oklevueha Native American Church
James Warren "Flaming Eagle" Mooney
James Warren 'Flaming Eagle' Mooney, Co-Founder of Oklevueha Native American Church maintains Elder Seminole Medicine Man Emeritus status. He is active in promoting the welfare of the Indigenous Peoples of the Americas, as well as defending and supporting all Indigenous cultures around the world.
Direct Descendant of James Mooney, Archaeologist and ETHNOLOGIST OF THE SMITHSONIAN INSTITUTE
Represented the Indigenous Peoples of the World at the United Nations
BOARD MEMBER OF SERVES ON THE SALT LAKE INTERFAITH ROUNDTABLE REPRESENTING THE INDIGENOUS CULTURES OF THE INTERMOUNTAIN WEST
SPEAKER FOR LAW ENFORCEMENT ACTION PARTNERSHIP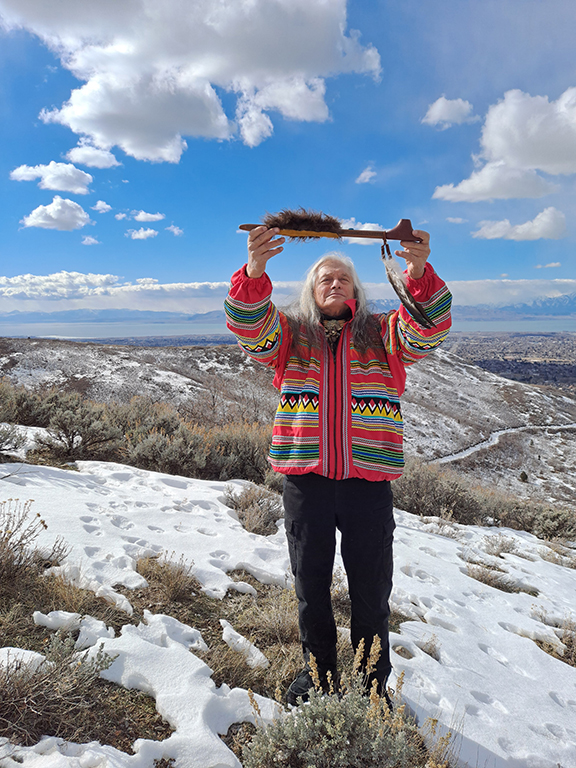 Blessings
James Mooney has received blessings and acknowledgements from Elders, Medicine People, and Indigineous Leaders.

Recognition
James Mooney has received awards, recognition, and praise for his work in the community and for his commitment to preserving the ways of the Indigenous.

Genealogy
James W.F.E. Mooney's genealogy clearly shows he is a descendant of James Mooney (Smithsonian Ethnologist) and America Simpson, a direct descendant of Osceola, the Great Seminole Medicine Man and Chief.

Interfaith Service
Currently serving on the Salt Lake Interfaith Roundtable, James Mooney is committed to representing indigenous cultures and their spirituality with other mainstream religions.

Healing Mother Earth
The earth is our Mother, and the indigenous all over the world are bound by a sacred duty to honor, protect, and defend her. James Mooney is committed to this mission.

Preserving Accurate History
The misinformation and inaccurate retelling of the history of Native Americans is rampant across the country. One of James Mooney's personal commitments is to right the wrongs, and tell the true story of the abuse and genocide perpetrated against the Native Americans.
Podcasts Featuring James WFE Mooney
James WFE Mooney's life story and journey to the medicine can be heard on the Bodhispeak Podcast.
To listen to this podcast please go here.
WALKING SPIRITUALLY WITH PRAGMATIC FEET
James Mooney's Spirituality
Along with walking the Native American path of spirituality, James considers himself a Christian and one who believes the Book of Mormon is a true description of the historical evolution of Christianity in the Americas.
James is the first Prior of The Priory of the Indigenous People, under the Grand Priory of the United States of America of the Hospitaller Order of Saint Lazarus of Jerusalem. When James was invested as Prior, the Supreme Grand Priory of the Order also issued a bill wherein it stated that 'The Hospitaller Order of Saint Lazarus of Jerusalem will do its level best, both in the national US jurisdiction and also in the international forum, to promote and assist the plight and efforts of the modern day indigenous Native Americans in their long struggle to secure the rights and conditions which were forfeited throughout the years.'