Richard "He Who Has the Foundation" Swallow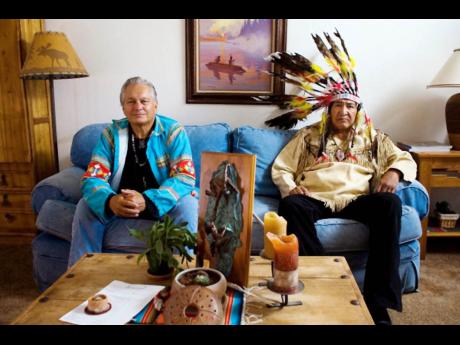 James Mooney and Chief Richard Swallow

Chief Richard Swallow signing Affidavit of Fact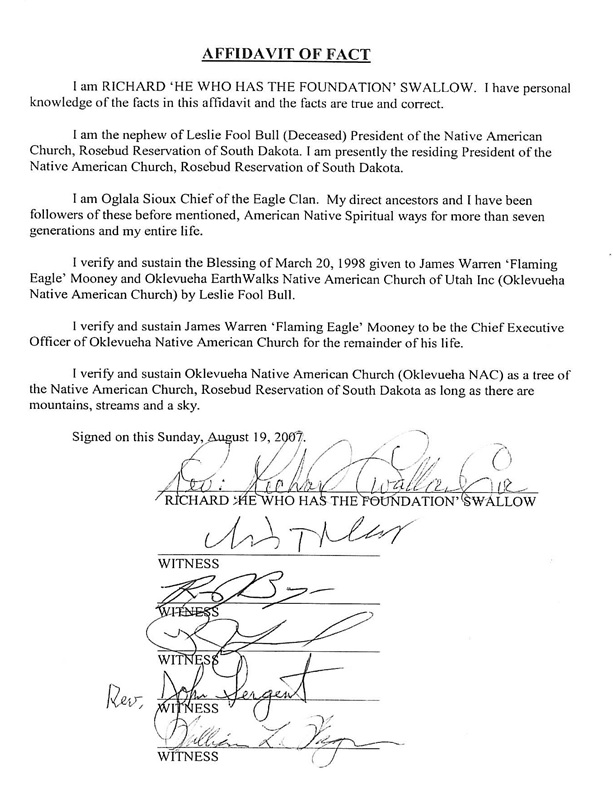 Richard "He Who Has the Foundation" Swallow was a fierce prop0nent of Oklevueha Native American Church. As chief of the Standing Buffalo Clan, he believed that Native American spirituality could benefit all people, regardless of race. He wrote the above Affadavit in support of James Mooney and Oklevueha Native American Church.
In the video below, you can see him sitting next to James Mooney in full regalia.
Richard was born December 20, 1954 in Gordon, Nebraska to David Swallow and Margaret Red Shirt Swallow. Richard lived in Wounded Knee, SD with his family. Richard attended school in; Porcupine, Sioux Falls, and Pine Ridge, SD before finally attaining his GED. Richard met Ethel "Bonnie" Bear Killer in high school and married her in 1980.
 Richard's life was one of service to others. He was a Substance Abuse counselor at the Main Artery in Long Beach CA. Richard entered the ministry and continued thereafter. He became an Oglala Sioux Tribal Public Safety Officer and was ordained into both; the Native American Church in July 1981 by Priest Emerson Spider SR and into Orchard Valley Ministries in Wichita,KS by Rev. Bob McKinney in April  of 1981.
Richard was trained for working the developmentally challenged and became a wildland firefighter. He started his own store/garage in Porcupine –'Swallow Tipi Grounds Store'. He was requested to move to Chadron NE to minister while at the Chadron Native American Center. He started the 'Triple S' Mission from his own home to all those in need.
In 1990 Richard became a Sun Dance leader. Six years later Richard's vision, interpreted by Leonard Crow Dog, was that he was to lead – Richard was designated as Chief of the Standing Buffalo Clan by his father. His Lakota name, given by Crow Dog is "Otiota yuha mani"- he who walks with the foundations. For 16 years he researched the Holy Bible along with observing the Lakota beliefs and traditions, finding parallels and combining both teachings into one spiritual practice.