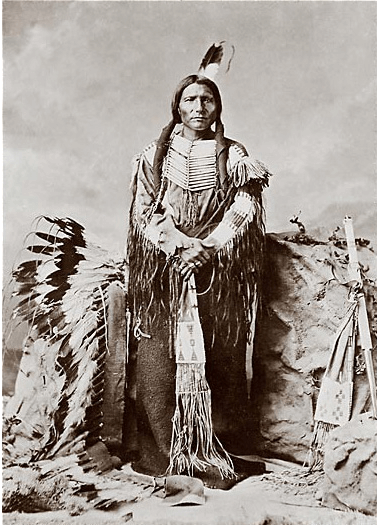 Crazy Horse (Tashunkewitko)
"Upon suffering beyond suffering; the Red Nation shall rise again and it shall be a blessing for a sick world. A world filled with broken promises, selfishness and separations. A world longing for light again.
I see a time of seven generations when all the colors of mankind will gather under the sacred Tree of Life and the whole Earth will become one circle again. In that day there will be those among the Lakota who will carry knowledge and understanding of unity among all living things, and the young white ones will come to those of my people and ask for this wisdom.
I salute the light within your eyes where the whole universe dwells. For when you are at that center within you and I am in that place within me, we shall be as one."
Crazy Horse (Tashunkewitko) was born on the Republican River about 1845. He was killed at Fort Robinson, Nebraska, in 1877, so that he lived barely thirty-three years.
He was an uncommonly handsome man. He was modest and courteous as Chief Joseph; the difference is that he was a born warrior, while Joseph was not. However, he was a gentle warrior, a true brave, who stood for the highest ideal of the Sioux. Notwithstanding all that biased historians have said of him, it is only fair to judge a man by the estimate of his own people rather than that of his enemies.
The boyhood of Crazy Horse was passed in the days when the western Sioux saw a white man but seldom, and then it was usually a trader or a soldier. He was carefully brought up according to the tribal customs. At that period the Sioux prided themselves on the training and development of their sons and daughters, and not a step in that development was overlooked as an excuse to bring the child before the public by giving a feast in its honor. At such times the parents often gave so generously to the needy that they almost impoverished themselves, thus setting an example to the child of self-denial for the general good. His first step alone, the first word spoken, first game killed, the attainment of manhood or womanhood, each was the occasion of a feast and dance in his honor, at which the poor always benefited to the full extent of the parents' ability.
Big-heartedness, generosity, courage, and self-denial are the qualifications of a public servant, and the average Indian was keen to follow this ideal. As every one knows, these characteristic traits become a weakness when he enters a life founded upon commerce and gain. Under such conditions the life of Crazy Horse began. His mother, like other mothers, tender and watchful of her boy, would never once place an obstacle in the way of his father's severe physical training. They laid the spiritual and patriotic foundations of his education in such a way that he early became conscious of the demands of public service.
Crazy Horse loved horses, and his father gave him a pony of his own when he was very young. He became a fine horseman and accompanied his father on buffalo hunts, holding the pack horses while the men chased the buffalo and thus gradually learning the art. In those days the Sioux had but few guns, and the hunting was mostly done with bow and arrows.
He spent much time in prayer and solitude. Just what happened in these days of his fasting in the wilderness and upon the crown of bald buttes, no one will ever know; for these things may only be known when one has lived through the battles of life to an honored old age. He was much sought after by his youthful associates, but was noticeably reserved and modest; yet in the moment of danger he at once rose above them all — a natural leader! Crazy Horse was a typical Sioux brave, and from the point of view of our race an ideal hero, living at the height of the epical progress of the American Indian and maintaining in his own character all that was most subtle and ennobling of their spiritual life, and that has since been lost in the contact with a material civilization.
It was observed of him that when he pursued the enemy into their stronghold, as he was wont to do, he often refrained from killing, and simply struck them with a switch, showing that he did not fear their weapons nor care to waste his upon them. In attempting this very feat, he lost this only brother of his, who emulated him closely. A party of young warriors, led by Crazy Horse, had dashed upon a frontier post, killed one of the sentinels, stampeded the horses, and pursued the herder to the very gate of the stockade, thus drawing upon themselves the fire of the garrison. The leader escaped without a scratch, but his young brother was brought down from his horse and killed.
He attained his majority at the crisis of the difficulties between the United States and the Sioux. Even before that time, Crazy Horse had already proved his worth to his people in Indian warfare. He had risked his life again and again, and in some instances it was considered almost a miracle that he had saved others as well as himself. He was no orator nor was he the son of a chief. His success and influence was purely a matter of personality. He had never fought the whites up to this time, and indeed no "coup" was counted for killing or scalping a white man.
Like Osceola, he rose suddenly; like Tecumseh he was always impatient for battle; like Pontiac, he fought on while his allies were suing for peace, and like Grant, the silent soldier, he was a man of deeds and not of words. He won from Custer and Fetterman and Crook. He won every battle that he undertook, with the exception of one or two occasions when he was surprised in the midst of his women and children, and even then he managed to extricate himself in safety from a difficult position.
Early in the year 1876, his runners brought word from Sitting Bull that all the roving bands would converge upon the upper Tongue River in Montana for summer feasts and conferences. There was conflicting news from the reservation. It was rumored that the army would fight the Sioux to a finish; again, it was said that another commission would be sent out to treat with them.
In this dashing charge, Crazy Horse snatched his most famous victory out of what seemed frightful peril, for the Sioux could not know how many were behind Custer. He was caught in his own trap. To the soldiers it must have seemed as if the Indians rose up from the earth to overwhelm them. They closed in from three sides and fought until not a white man was left alive. Then they went down to Reno's stand and found him so well intrenched in a deep gully that it was impossible to dislodge him. Gall and his men held him there until the approach of General Terry compelled the Sioux to break camp and scatter in different directions.
For some time he held out, but the rapid disappearance of the buffalo, their only means of support, probably weighed with him more than any other influence. In July, 1877, he was finally prevailed upon to come in to Fort Robinson, Nebraska, with several thousand Indians, most of them Ogallala and Minneconwoju Sioux, on the distinct understanding that the government would hear and adjust their grievances.
At this juncture General Crook proclaimed Spotted Tail, who had rendered much valuable service to the army, head chief of the Sioux, which was resented by many. The attention paid Crazy Horse was offensive to Spotted Tail and the Indian scouts, who planned a conspiracy against him. They reported to General Crook that the young chief would murder him at the next council, and stampede the Sioux into another war. He was urged not to attend the council and did not, but sent another officer to represent him. Meanwhile the friends of Crazy Horse discovered the plot and told him of it. His reply was, "Only cowards are murderers."
When Crazy Horse reached the military camp, Little Big Man walked arm-in-arm with him, and his cousin and friend, Touch-the-Cloud, was just in advance. After they passed the sentinel, an officer approached them and walked on his other side. He was unarmed but for the knife which is carried for ordinary uses by women as well as men. Unsuspectingly he walked toward the guardhouse, when Touch-the-Cloud suddenly turned back exclaiming: "Cousin, they will put you in prison!"
"Another white man's trick! Let me go! Let me die fighting!" cried Crazy Horse. He stopped and tried to free himself and draw his knife, but both arms were held fast by Little Big Man and the officer. While he struggled thus, a soldier thrust him through with his bayonet from behind. The wound was mortal, and he died in the course of that night, his old father singing the death song over him and afterward carrying away the body, which they said must not be further polluted by the touch of a white man. They hid it somewhere in the Bad Lands, his resting place to this day.
Thus died one of the ablest and truest American Indians. His life was ideal; his record clean. He was never involved in any of the numerous massacres on the trail, but was a leader in practically every open fight. Such characters as those of Crazy Horse and Chief Joseph are not easily found among so-called civilized people. The reputation of great men is apt to be shadowed by questionable motives and policies, but here are two pure patriots, as worthy of honor as any who ever breathed God's air in the wide spaces of a new world.
Information from http://www.indigenouspeople.net/crazyhor.htm